Artist: World of Women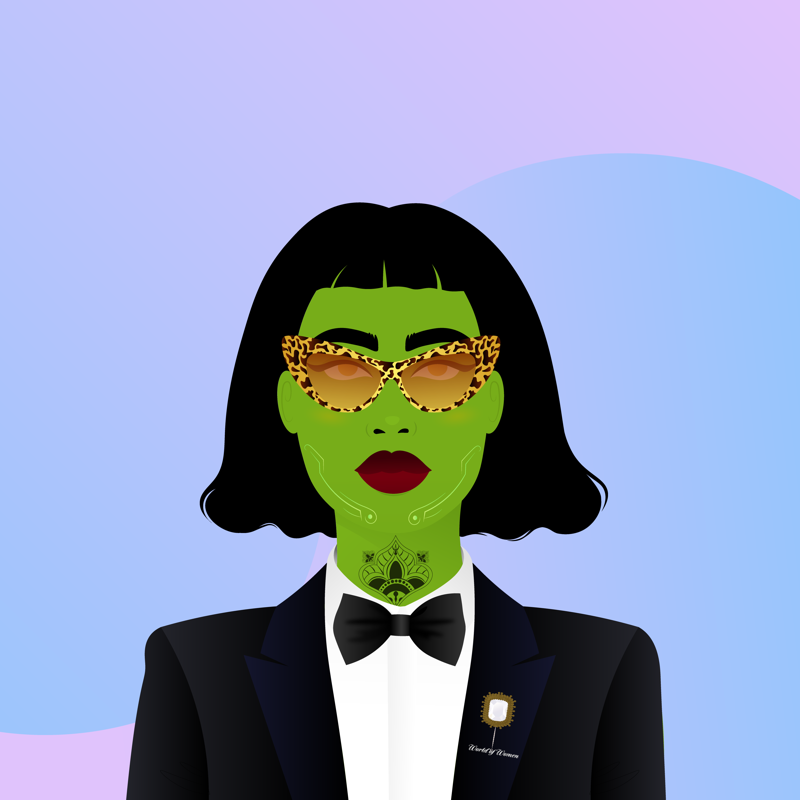 Dear Margaret,
2021 was an absolutely incredible year for your mother and I. We sold, then bought a house, moved over the span of just a few days, then you came rocking into our little world. We're lucky for a lot of things, but mostly for the joy you bring into our hearts every morning with that first smile.
2021 was also notable as the year of the PFP (profile pic) dominating the crypto and NFT space. Every single day brought another bozo influencer team claiming that their particular icon would completely change the space and offer utility like no other and 1000x overnight, etc. etc. etc … and some of them honestly did! I missed out on a few that were incredibly successful. But for every Ape, Cool Cat or Penguin, there are tens of thousands more that will ultimately go nowhere.
Many of these are built on the ideals of community and organic growth, and some, such as Kenny Shachter's CryptoMutts, move beyond this into their own artistic hemisphere and truly become their own thing (a post isforthcoming!) In reality, most PFP projects in 2021 were just looking for a quick way to make their creators as much money as they could, leaving swaths of people scrambling to find the next thing to ape into. And on and on.
Despite my many reservations toward PFP projects, I thought the idea behind World of Women was a good one: celebrating representation, inclusivity, equal opportunities and the power of women. Right on! 10,000 were to be made.
I managed to get a few at launch, and held onto them for about a month, before realizing they were jumping a bit in value. As is typical, I then stupidly sold two and have somehow held onto the above one till now, as she reminds me of the Orions from the original Star Trek TV series, a show we'll be geeking out over soon enough. I kept her thinking that it was her skin color that made her more rare, but as it turns out, it's the tux. There are only 100 of them!

Okay, it's time to head out and pick you up from daycare. We miss you so much during the day.


Love, Pop

P.S. Please don't get mad if you find out years from now that we sold her.
We might have needed it for diapers, daycare or clothes for you, after all.